Published January 29, 2021
H2W Technologies' latest custom voice coil positioning stage (VCS08-350-LB-01-MC-F) was developed to meet the dual feedback requirements of the customer. This closed loop system allowed the user to monitor both position and force simultaneously and adjust accordingly. It incorporates a voice coil motor (NCC08-34-350-2X) which generates a continuous/peak force of 35.0 lbs [156 N]/105 lbs [467 N] with a total stroke length of 0.80 in [20.3 mm]. The 1.0-micron resolution encoder allows for precise positioning. The 200 lbs force transducer allows for 1-200 lbs of push/pull force feedback.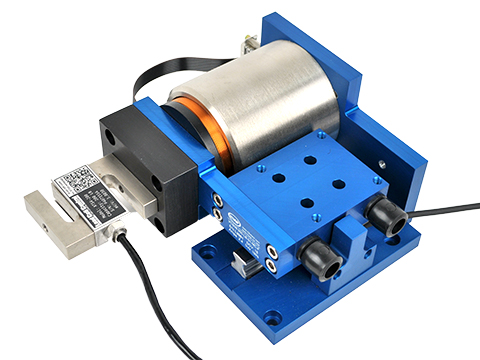 It comes supplied with a rigid recirculating ball linear bearing. The motor coil is the moving part of the assembly in order to reduce the moving mass of the system. Power is supplied to the motor via a high flex, high reliability flat ribbon cable. The voice coil motor has been mounted to the side of the bearing assembly in order to reduce the overall height and length of the system. It can operate in any orientation, vertical or horizonal.
Features:
Dual feedback (position and force)
Low profile
High force