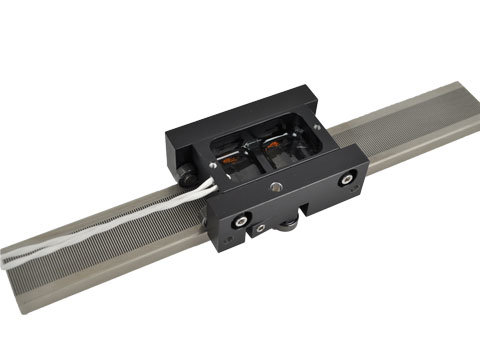 The STS-0213-RV is a 2-phase single axis linear stepper motor that generates a continuous force of 2.3 lbs [10.2 N]. It is guided by precision roller bearings along the platen. The roller bearings also help maintain the required motor air gap. Power is supplied to the motor via a 10in long cable with flying motor leads. There are mounting holes on the top of forcer to allow for payload mounting. This motor has been made to be fully vacuum compatible.
To determine your motion profile needs, use our
linear motion calculator
.
Product Drawing
Bearing Type
Roller
Forcer Mass
0.51 lbs
230 grams
Platen Mass
0.28 lbs/in
5 grams/mm
# of Phases
2
Resistance @ 20C
1.65 ohms
Inductance @ 20C
1.75 mH
Electrical Time Constant
2.53 msec
Force
2.3 lbs
10.2 N
Current
2.0 amps
Forcer Length
2.95 in
74.9 mm
Forcer Width
2.17 in
55.1 mm
Forcer Height
1.03 in
26.2 mm