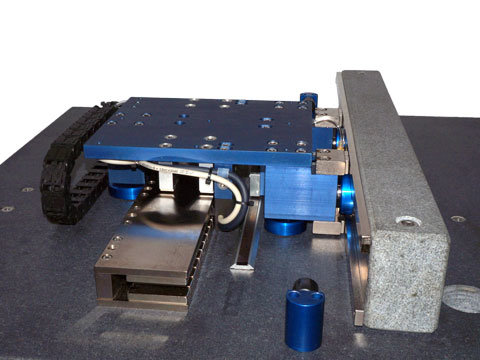 The ABS-012-12-030-X is a low profile air bearing positioning stage uses a brushless linear motor to generate a continuous/peak force of 29.0 lbs [129 N]/87.0 lbs [387 N] with a total stroke length of 12.3 in [311 mm]. The non-contact 1.0-micron resolution encoder allows for precise positioning. It is guided by 5 flat magnetically preloaded non-contact porous carbon air bearings (flat air bearing) floating on a granite base with excellent flatness and straightness specifications. There are also provisions that allow customer cables to be routed within the cable carrier. It has end-of-travel rubber bumper stops. End-of-travel-sensors and custom mounting holes on the moving table are available upon request. This system has no wearing parts. It is ideal for applications that require frictionless motion with low velocity ripple.
To determine your motion profile needs, use our
linear motion calculator
.
Product Drawing
Bearing Type
Air
Motor P/N
n/a
Forcer Mass
15.0 lbs
Stroke
12.3 in
311 mm
Encoder Resolution
1.0 micron
Bearing Type
Air
Moving Mass
17.0 lbs
7.7 kg
Total Mass
275 lbs
125 kg
Resistance @ 20C
37.0 ohms
Inductance @ 20C
8.5 mH
Electrical Time Constant
0.23 msec
Motor Constant
2.4 lbs/√watt
10.6 N/√watt
Force Constant
14.5 lbs/amp
64.3 N/amp
Back EMF
1.4 V/ips
53.8 V/m/sec
Force @ 100% Duty
71.0 lbs
316 N
Power @ 100% Duty
147 watts
Current @ 100% Duty
2.0 amps
Force @ 10% Duty
213 lbs
948 N
Power @ 10% Duty
1323 watts
Current @ 10% Duty
8.0 amps
Stage Length
20.0 in
508 mm
Stage Width
10.0 in
254 mm
Stage Height
30.0 in
762 mm