Published August 15, 2018
H2W introduces its most compact moving magnet actuator with a hole through the shaft. The voice coil actuator (NCM01-04-001-2IBH) can be operated under either open or closed loop position control and is ideal for controlled sinusoidal motion applications (1 to 1000 Hz for open loop applications and 1 to 125 Hz for closed loop applications). The NCM moving magnet type linear actuator has a precision ground 0.125" diameter shaft that is guided by precision manufactured high cycle low-wear plastic bushings. The shaft has a 0.059" hole that goes through the shaft which is ideal for routing a fiber optic cable, passing light through, or routing an air hose for vacuum or pressurized air.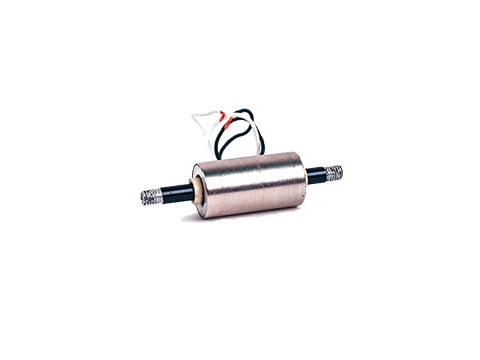 The moving magnet voice coil has a 0.10" [2.5 mm] stroke, generates 0.1 lbs [0.5 N] of continuous force and 0.3 lbs [1.3 N] of peak force. The actuator is driven in open loop mode by feeding a sinusoidal control signal into a servo amplifier which is in turn connected to the two leads of the actuator.The actuator can also be operated as a closed loop system by adding a programmable motion control and position feedback device.

Features:
High frequency operation
High frequency operation
Compact size
Custom strokes and force configurations available